Do your kids ever say something outrageous or off the wall that you think you'll never forget, but by the time you want to tell your husband or your mom about it later that night you already forgot?
I do that all the time!
That's why earlier this year I started keeping a book of letters for each of my kids and I'm already so glad that I did.
I can already look back and see some funny moments I would have otherwise forgotten.
I want each of my kids to have memories recorded in my handwriting.
When they are old enough, I hope I continue this tradition and they can write letters in their notebooks as well.
It only cost about $1 to start this tradition for each child, but I know they will treasure these memories forever. I think they will like each having their own book of letters from mom. I made sure to buy the books in a "signature color" for each kid, so I wouldn't mix them up and write a letter in the wrong book. (I can totally see myself doing that!)
Although I take about a million photos every week, I'm not a scrapbooker anymore. I'm glad to have a place to record our memories.
I think it's so important when you have several kids to recognize each of them individually.  Do you have anything special that you do for each child?
_____________________________________________________________________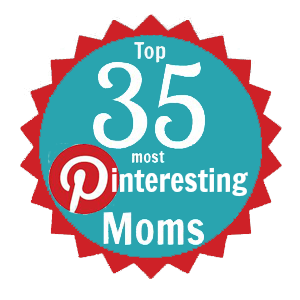 Oh! I also have some exciting news. Have you noticed the new button on my sidebar? I've been selected as one of the Top 35 Most Pinteresting Moms! I was super excited when I was asked to join. I'm not sure how I managed to land a gig among such talented ladies. They are hilarious and they have a lot of fun ideas. Make sure to check out our group Pinterest board!